When the new MacBook Pro model was announced late October 2016, I was disappointed]. I searched for alternatives, and found none. So I ordered a high-end MBP. It felt wrong. So I cancelled it. I kept looking for alternatives. I found none. So I re-activated my order.
After four months, here are my impressions.
UPDATE Stability issues - BSoD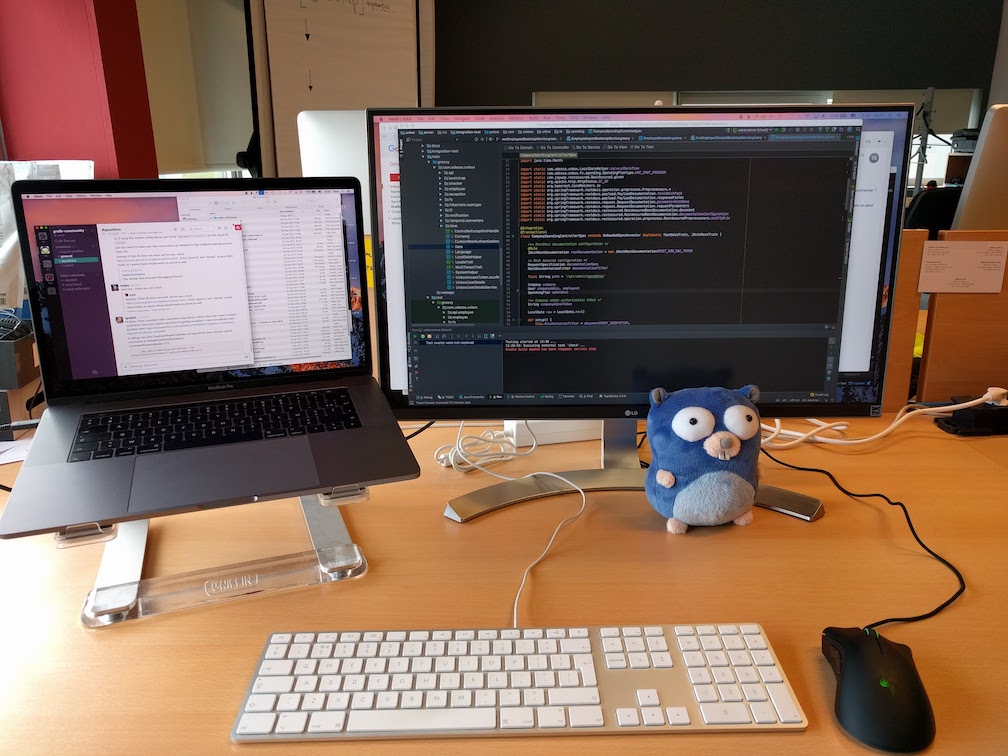 The Good
Screen is fantastic, even better than before.

Trackapd is gorgeous. All other trackpads are a joke next to this one.

Perfomance is astounding. No CPU throttling AFAKT, super fast m2 SSD. I haven't tried anything fancy with the Radeon 460 GPU though.

I love the clacky keyboard. Not clicky, but clacky. That's probably because I own a Das Keyboard 4C Ultimate with clicky Cherry Blue keys. I could go clacking all day long with this MacBook Pro. But I guess many people are not going to like this keyboard however.

Still practically zero maintenance. TimeMachine got your back. No driver issues. I just can concentrate on my work.

It's thin and light, but this obsession to gain a few millimeters and grams is ridiculous considering the tradeoffs (less battery, user maintenance possibilities close to zero, limited connectors - see below).
The Less Good
TouchID could be nice. It's a bit slow, but it works, except when the laptop lid remains closed because it's connected to an external monitor. Then, the TouchID is useless at best, when it does not prevent me from logging in with a password. That happens every once in a while (I have to open the lid and "type in" my finger).

The battery is not what it used to be. It's not weak, but it's not as good as previous generation. If only they had made the laptop slightly thicker in favor of a bigger battery…

Stability is not what it used to be. Not a disaster, but I have to force reboot more often than I used to.

No more MagSafe. The magnetic part saved my previous laptop a few times when I accidentally tripped on the cable. Here, the USB-C is both slippery to grab and hard to pull. #fail
The Ugly
Atrocious Touch bar. Useless at best. Often buggy. And for a developer, function keys matter. They're still there, but they become inconvenient to access.

Very inconvenient USB-C ports. Yes, I use a single cable (sound + image + power) to connect it to my LG 27" 4k screen. It's neat, and it's great. And my Nexus 5X also has the right connectivity. Sure, it's future proof. But the future is not quiet there yet, and the projector connections in the meeting rooms have at best HDMI (hello VGA). Beyond that, I need an adapter for practically everything: USB type A external HDD, meeting room projector, ethernet, SD card reader… You get used to carrying them dongles along, which defeats the purpose of having a slim laptop.

No on-site guarantee. This ain't Dell or Lenovo or the ridiculously overpriced HP. It's a consumer device, not a pro device. Hopefully, the hardware is well designed and not likely to fail. But I keep my 2012 model in reserve, just in case something would go wrong, as I can't afford to remain without my working tool for a single day in case of a repair. Yes, it's ridiculous.

User serviceability is close to nil. Practically nothing can be replaced by the user. Glued battery, soldered RAM - that was already the case on the previous generation. Now even the SSD cannot be replaced, or at least it won't be easy.
Go for it?
I'd consider Dell and Lenovo long and hard before buying. If you can live with sub-par screen, PWM, dumb pre-installed software, plus manufacturer and MS Windows non sense features that is.
If MS Windows is not your thing, and if you don't want to go down the GNU/Linux road on a PC, and if you're looking for a high end machine, then I'm afraid the MacBook Pro remains a strong choice.