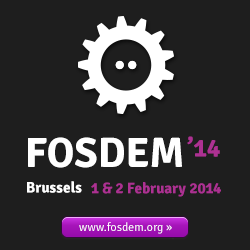 I don't think I will be going to FOSDEM next year.
Last year, in 2013, I was lucky enough to get a seat in the Python track by grabbing a chair one talk earlier than planned. 3 talks went on with the room overcrowded in a sickening heat and I congratulated myself for coming extra-early - the previous talk was not that bad anyway.
Following another track, I was lucky to be able to sit or stand against a wall in yet another full room. So the idea was not to move too much around. Cherry picking your sessions can be hazardous as your forfeit your seat (or even your spot in a corner of the room).
Yet I was happy to contribute financially.
This year, I got lazy and I arrived only 15 minutes before a Go talk, in the middle of the morning. What was I thinking ? Sorry sir, no seat left, and this year you can't enter the room. I understand that; it was probably unsafe to let so many people in last year.
By the time you're facing a closed door, it is too late to join the Python track. Same scenario as last year, the room is packed full of people.
At this point, I didn't want to take a chance on my third choice and to queue a half hour only to realise that people are not leaving the room after the current talk is over. And I suspect this is a vicious circle : the more entries are denied, the more people stick to their seat.
FOSDEM is obviously the victim of its own success and has managed to outgrow its venue - no less than a university campus! But I'm getting too old for this.
Slightly disappointed, I went back home. I still have presentations to catch up on Parleys.