Long repair at Apple Store
05 October 2017
Can the Apple MacBook Pro be considered as a "pro" laptop? I don't think so.
It's been 17 days that I brought my MacBook Pro late 2016 to the Apple Store Brussels for a repair. Freezes and wifi issues first. Got the laptop back "repaired", only to find out it was now completely unusable with a stuck trackpad. Theses two articles are computer horror stories in themselves. But read on. It gets worse.
The second repair was announced to me as: "it can be done this afternoon but not sure" at the beginning of last week. Was still not fixed at the end of week. Got a call, it would be available in the shop on Saturday. But nope, it was delayed again. And so on.
Today I've tried to reach the Apple Store Brussels. I've done that several times in the past days and weeks, varying my choices in the automated menu to avoid dead-ends, but no joy. I always end up in another service, usually in France, where they cannot tell me anything more about my laptop's endeavour. A representative asked me if the store was far from home, as it would be easier to drive and be there in person to get the information I need.
"The Apple Store in Brussels is very hard to reach" (Apple representative)
I concur. It's like calling an administration, except they're always polite and understanding.
Today however, my patience has run out. On the phone, I explain to this random Apple employee my intention to send a registered notice to the Apple Store, and to claim damages. She was amenable to try and contact the Apple Store Brussels, telling me it would take time, and maybe fail. Yes, that's how low they are. But she managed to get through.
I'm now told my machine is being tested as we speak. It took a 40 minutes phone call to find out. And this was not my first call.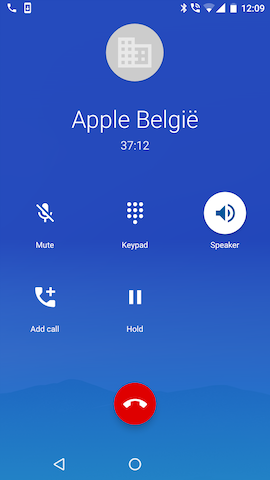 Figure 1. Please hold the line
The motherboard and the topcase will be replaced again — by refurbished parts I assume. Maybe the screen too, she was not sure. My file is getting thick and complex to read, even for Apple representatives.
This is not over yet but it is already a bitter experience. As I feared before I bought it, the lack of professional on-site warranty is a serious liability.
To sum it up, with the expansive Apple Care on top of the legal warranty for an already very expensive hardware equipment:
I'm at the mercy of the Apple Store repair schedules and pieces availability.

There was no satisfactory escalation procedure after a first failed repair.

There was nothing to compensate for delays on the second repair.

No replacement was provided while the machine was being fixed.

No free pick-up or delivery available, even after a failed repair.

A first failed repair where practically all the parts have been changed does not entitle me to receive a new laptop.
I insisted so they would at least provide me with a replacement, or take care of the transport, but they wouldn't budge.
This is not the kind of experience I've heard of colleagues that have been in contact with Apple for a defective product. Maybe this has become Apple's standard operating procedures. Case not closed yet. I still have to get my laptop back. Fully working I can only hope.
Even more unacceptable than last week.
---
Comments are disabled. Feel free to share your thoughts on Twitter.
Les commentaires sont désactivés. N'hésitez pas à partager votre opinion sur Twitter.