Riding the Cowboy's bike
12 May 2018
The Cowboy is an electric bike built for the city. It is elegant, smartly designed and nice to handle. If it is the right bike for you depends on several factors.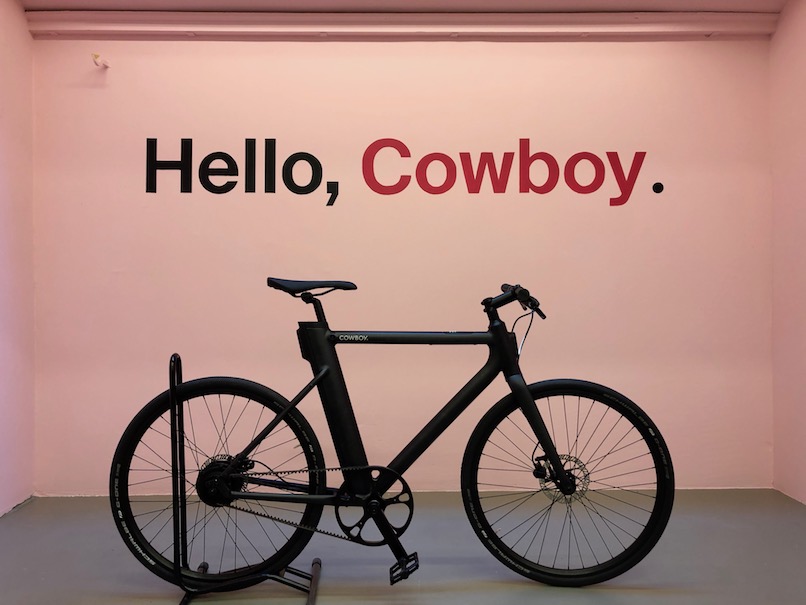 Introducing the Cowboy
David Nguyen and I booked a trial in Brussels. The staff is very friendly and eager to help you.
The look of that bike is unique. It is very elegant, and obviously designed to be an electric bike from the start. At last, someone figured out how to do it right. Most electric bikes would certainly look clumsy when standing next to the Cowboy.
The bike was thought with strongly opinionated choices in mind. And that was for the better. For instance it has no shifter. Only one speed. This allowed the manufacturer to replace the conventional chain by a carbon belt. That means less maintenance and a cleaner biking experience. Powerful safety lights are nicely integrated in the frame. That's smart for a city bike.
You get hydraulic brakes, but no front suspension. Which means a lighter bike and a lower price. Just like with the absence of shifter. You can't easily unlock the front wheel. At least it makes it harder for thieves to steal it. The attention to the details is clear. As a result, it weights only 16 kg, which is very reasonable for an electric bike. It makes a difference when you have to climb a few steps on a stairs.
It's a connected bike, meaning you can plug your smartphone to access certain functionalities. Actually, you must use your mobile phone to unlock and start the bike. Some people like that sort of gadgets, but I don't, and I was a bit worried something could go wrong in that department. And it somewhat did. More on that later.
Looking closer, it is obviously not a high-end bike. The grips seem a bit cheap, the pedals are entry-level for sure, and the frame looks like it will scratch easily. The brake handles could be larger. But all of that is perfectly acceptable for that price: €1,790.00.
Hit the road and sweat
We started our test ride with an already connected phone on the frame. Something was wrong. I had to push hard to make the bike move. I first attributed that to the absence of derailleur and the surprisingly high gear ratio, and to my dubious physical condition. But when we reached a flat terrain, I was still lagging way behind David, and I knew something was wrong.
The app on the smart phone had crashed. I restarted it but it crashed again a few seconds after. However, I managed to find out the assistance was actually turned off. I was able to turn it on before the app crashed again. Like I feared, you become dependent on your mobile phone to properly operate the bike. And that's certainly not as reliable as a dedicated device. The staff explained that iOS had not been updated, but there's always a good reason for an app to cease functioning. Including for instance when your battery dies, or when your Nexus 5X decides to enter an infinite bootloop.
Assistance
Once the assistance was on, I managed to climb the next hill without breaking a sweat, like a breeze, with a grin on my face. Maybe because I realised I was not in such bad shape after all. The assistance is strong and smooth. The website claims they have an intelligent speed and torque sensor.
Our intelligent speed and torque sensors kick in the motor-assistance system as you pedal. Basically, you ride like you always do, but go faster than before.
I assumed that was just marketing talk. It is not. It is at least on par with what you can find on expensive electric bikes. If not above. On bikes sold at a similar price tag, you will get a shaky and lousy experience in comparison. The assistance is so strong I reckon that must put a toll on the battery. But if you can get the announced 50km out of it, or even only half of it, is it really an issue?
This being said, we did not attempt the most severe climbs of Brussels. Other neighbourhoods may end up much more challenging with the crazy super high fixed gear ratio. No issue if you live in Leuven, but I'd be curious to see it in action in Namur.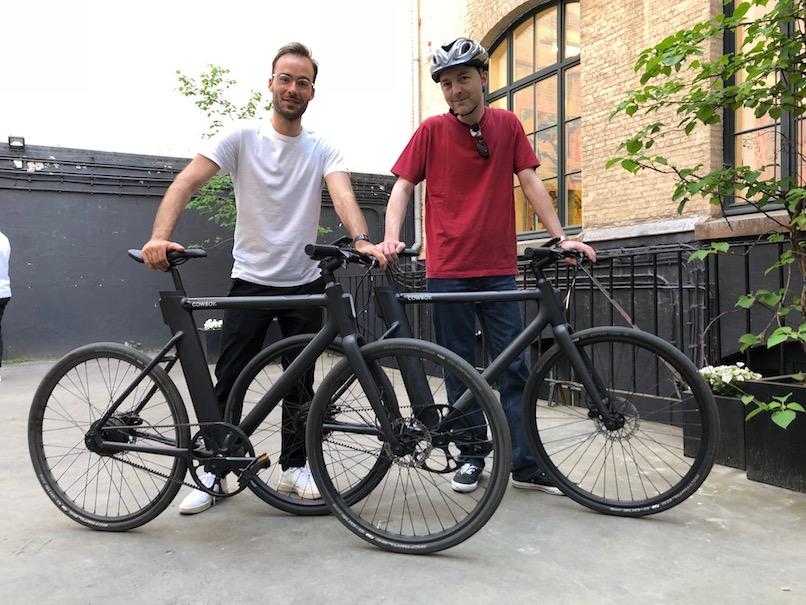 Enjoy the ride
Overall, the bike is pleasant and easy to handle. Inspired. Fun and delightful even.
Please note that you are bent on the bike; it's not one of those bikes with large and highly positioned handlebars.
I wouldn't get too comfortable speeding above 30 km/h, but that's not the point with that type of bike. The brakes will stop you all right, but I didn't find them very progressive. More like if I had regular V-brakes rather than hydraulic brakes. David liked the way they operate though.
I managed to be cut-off by cars 3 times during the short test (what kind of place is this?) and the bike handling was no concern at all while hitting the brakes heavily or swerving, even though I was riding it for the first time. Rear wheel locked as expected given the driver's position and the tire dimensions. That's where more progressive brakes would come in handy. Cowboy ProTip: please install a bell on it, the law requires it. And not one you activate from the phone. I yelled at the faulty drivers instead, as they all had opened windows. Works too, and I get to keep both hands on the bar.
The bike remained relatively comfortable on cobblestones, and I had no difficulties manoeuvring it with one hand (at lower speed) on the unpleasant road coating, despite the lack of front suspension.
Repairs and replacement parts
The bike is sold on the internet exclusively. There's only one store located in Brussels. Some parts of the bikes are industry standards, but others like the battery and the electric engine, are custom.
This raises some concerns, should the company producing the Cowboy discontinue that line, or go bankrupt. How would the app on the smart phone still be maintained so that it would run on newer versions of iPhones? Where would you find a replacement for the battery? In any case, repair at your local bike shop will probably be complicated, if not impossible.
That would certainly make me think twice before buying this otherwise great bike.
Verdict
Electric bike for the city done right

Style

Price

Attention to details

Smart opinionated choices

Delightful
Several parts entry-level

High fixed gear ratio and steep hills
Mandatory smartphone

No repair network

Replacement parts in the long run
Based on this short trial, I'd say it's a fantastic bike for the city. You've got to love its style, and the intelligent design choices that make most other manufacturers look like clueless corporate bozos. You could easily forget this is not a high-end, expensive bike. For most of us, and taking the intended use into consideration, it is a perfectly reasonable balance. The mandatory use of a smart phone to unlock the bike may be appealing to you, or could also deter you from buying it. If you are willing to take a chance with the uncertainty regarding repairs and replacement parts, I'd seriously consider placing it on the top of my shopping list.
---
Comments are disabled. Feel free to share your thoughts on Twitter.
Les commentaires sont désactivés. N'hésitez pas à partager votre opinion sur Twitter.